Hiking and outdoor activities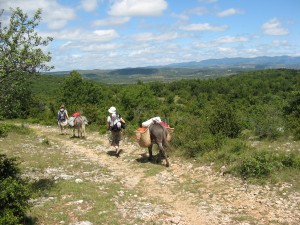 The Grand Site of the Cirque de Navacelles is an area where local heritage and the countryside reveal themselves to those who are prepared to listen, look and feel. Walking in this wonderful place is a way to discover the fauna and flora, as well as the local heritage, including lavognes (drinking places for animals), enclosed fields and old bread ovens.
There are plenty of trail maps and walking guides that can help you discover them and further explore the area.
A number of walks and nature activities are suggested :
An amazing network of walks (download the map of the Grand Site),
Walks with a qualified guide,
Walks with a donkey for both young and old,
Routes with an electric bike enable you to climb the steep hills with ease,
Guided horse back rides enable you to discover the wide open spaces of the Causses,
Explore the public forest in Montardier via the exhilarating tree climbing adventure park.
As well as shorter walks, longer walking tours are possible :
The path of Saint-Guilhem-le Desert: 240kms of pathways over high granite plateaus, and marvellous countryside crossing the Tarn Gorges, the Cevennes and Mont Aigoual and the Cirque de Navacelles to reach saint-Guilhem-le-Desert.

For further information

: https://www.facebook.com/chemindestguilhem
The T.L.M : The trip around Southern Larzac with100kms of pathways around the Grand Site to explore either day by day or over a route lasting 6 days. A variety of walks where each individual can choose an itinerary in the wilds of the Causses, depending on their fitness and stamina.
Invalid Displayed Gallery
To explore the different walks, use the following guides available at local tourist offices and in shops.

Trail map:
« Causses et Gorges de la Vis, Cirque de Navacelles » for routes on foot, on horseback or mountain bike,
Hiking guides:
« L'Hérault à pied » from upper Languedoc to the Mediterranean
« Tour du Larzac Méridional » the wide open spaces of a plateau : Le Caylar / La Vacquerie / St-Maurice-Navacelles
« Le Gard à pied »
« Le Chemin de Saint-Guilhem-le-Désert »
You can buy the guides in the various tourist offices around the Grand Site or the site buildings of the Grand Site of the Cirque de Navacelles – https://www.cirquenavacelles.com/infos-pratiques/maisons-de-site/
Invalid Displayed Gallery
Discover :
Cœur d'Hérault pas à pas
Coeur d'Hérault à vélo
Walking guides :
Le cirque de Navacelles
Sorbs et les vallées sèches