Grand Site of the Circus of Navacelles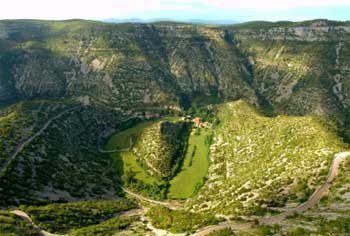 The Grand Site of the Cirque de Navacelles lies at the heart of the Causses and the Cevennes territory listed by UNESCO as a World Heritage site in June 2011, as a Mediterranean agro-pastoral cultural landscape. Nestled in the gorges of the Vis and the southern Causse, at the foot of the Larzac and the Cevennes, it is more than a geological curiosity. The Cirque de Navacelles is the result of an evolving, millennia-long, harmonious alchemy between people and nature. This rich and varied protected natural area shelters an outstanding biodiversity. The magnificent landscapes are studded with traces of agro-pastoralism and megaliths.
In order to protect, manage and enhance this remarkable and emblematic site, a Grand Site initiative was set up with local actors under the auspices of the Navacelles Grand Site Joint Association, in partnership with the state, with the aim of obtaining the label "Grand Site de France" ®.
Learn more :