A little of geography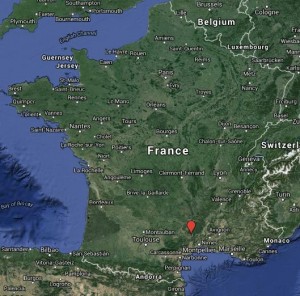 The « Grand Site » de Navacelles is less than 40 kilometres away from the Herault coast as the crow flies.
Thus, a lot of the visitors to the « Grand Site » du Cirque de Navacelles are from the big Mediterranean cities, like Montpellier or Beziers which are really not very far away.
On a more local scale, three regionally important towns surround the « Grand Site » : Lodève to the south, Ganges to the east of the Hérault département and Le Vigan in the North of the the Gard departement.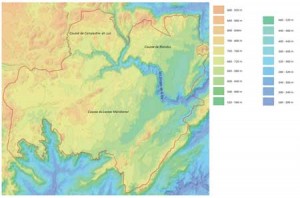 From wherever you may be coming from, to get to the « Grand Site » du Cirque de Navacelles you have to climb and cross the Causses. There, the dolomitic chaos and the « paysage de corniche » mark the entrance to the « Grand Site ». At the « top », the visitor discovers huge desert-like (though inhabited) stretches of land which build-up a sense of expectancy and emotion until you arrive at the Cirque de Navacelles.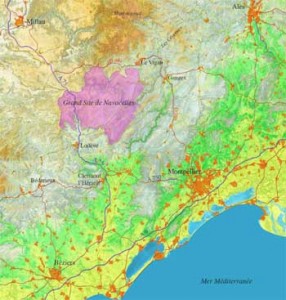 In terms of visits, the perimeter of the « Grand Site » has to balance the influx of visitors with the discovery of the site, ensuring that this is compatible with both the preservation and the development of the local area.
This grandiose landscape shelters a rich
and varied locally produced heritage,
which the local farmers enable you to discover.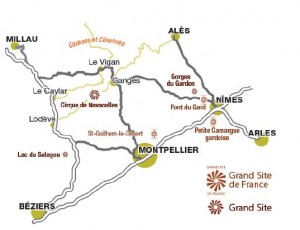 Map and 3D relief map of the Grand Site de Navacelles_ In red and blue:
perimeter of l'Opération Grand Site Réalisation
Cyril GINS, landscaper d.p.l.g / Philippe LOINTIER, Architect d.p.l.g / Urbanist