Landscapes shaped by 5,000 years of pastoralism
Inventive « Caussenards »
Arriving in an area completely covered by forest around 3 000 B.C., the settlers opened up the landscape by felling trees, essentially to obtain grass for their flocks. The people living on the Causses needed to be resourceful and ingenious in order to cope with the challenge of living in an area of mixed climates : Mediterranean, oceanic and continental, based on a limestone plateau.
Water management : taming the water !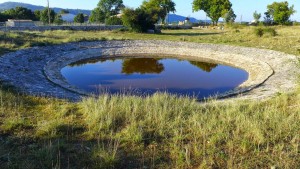 The winters are cold and the summers dry and hot.
Water is rare on the surface. Humans collected water in caves,
which they stored in water containers close to their homes, and
constructed extra roofs to increase the amount of water they could collect.
For drinking water for the flocks, the bottoms of natural ponds « lavognes »
were lined with stones, to protect them from being trampled by their animals
and to preserve the quality of the water.
Resourceful farmers
On the plateaus, farmers removed and piled up the stones « clapas » in order to clear the ground to grow cereals and animal fodder. In the gorges, they constructed terraces, or « traversiers ». Around their plots of land, the farmers built walls to protect their crops, and to keep the flocks in the fields. They constructed small shelters « cazelles », or « capitelles », where they sheltered from the rain and stored their tools. On the grazing lands « parcours », they built tracks which led to areas of higher altitude in summer where they found water and grass. Sheep pens « jasses » were constructed to hold sedentary flocks, or flocks making the transhumance.
Invalid Displayed Gallery
Agropastoralism today
Over 80 % of the surface covered by the « Opération Grand Site » is used for agropastoral activities.
Modern day agropastoralism is characterised by the diversity of production and of the animals that are farmed (sheep, cattle, goats, horses, sometimes even llamas and bisons). It is also characterised by the way in which the products are marketed : either being sold with no « middle man », or directly from the farms themselves, by an increasingly recognisable management strategy (for example agropastoralism and biodiversity, agropastoralism and upkeep of the landscape) and a recognition of other uses of/for the land (for example places to cross fences so paths are accessible to walkers).
Invalid Displayed Gallery