To reach the territory of the Grand Site du Cirque de Navacelles, we suggest a few discovery trails : between the gorges of the Hérault, the gorges of the Arre and the gorges of the Vis and the vast stretches of the three Causses of the Larzac, of Blandas and of Campestre-et-le-Luc. Through these different itineraries, you can discover the cultural heritage of agropastoralism, its landscapes, the exceptional biodiversity (wildlife and plants), the megaliths (dolmens, cromlechs, menhirs…).
Taking the bus
All year round :
From Nîmes and Montpellier, different daily routes exist :
From Montpellier to the Vigan, bus line 108
From Nîmes to the Vigan, bus line D40
From Montpellier to the Lodève or the Caylar, bus lines 301 and 381
Booking and then hiring a bike (electric or standard) and taxis (04.67.44.59.10 / 06 72 00 33 88) can help you on your journey (look at the interactive map).
Taking the shuttle
During the summer season :
"AVOID TRAFFIC JAMS AND GO STRAIGHT TO THE HEART OF THE CIRQUE DE NAVACELLES"
During the peak season, a shuttle bus runs from Le Vigan to the Blandas Belvederes and the hamlet of Navacelles.
From Montpellier, different daily links to Lodève and the Caylar, then in a taxi (04.67.44.59.10 / 06 72 00 33 88) or on a electrical bike (booking required).
Between 13 July and 16 August, starting from Le Vigan and the Blandas panoramic viewpoint*, take advantage of the shuttle bus and leisurely admire the limestone landscapes, the gorges of the Vis and the Cirque de Navacelles.
(* Daily connections from Nimes and Montpellier to Le Vigan with the D40 Edgar bus and 108 Hérault transport bus.)
Download the timetable for the shuttle bus between the Blandas Belvedere and the hamlet of Navacelles from July 13 to August 16 2015 and the presentation document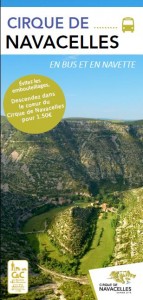 : Navette Cirque Navacelles 2015

Timetables and prices :
Transport from Nîmes : Edgard : 0810 33 42 73 ; bus line D40
Transport from Montpellier : Hérault transports 04 34 88 89 99 ; bus lines 301-381 ; bus line108